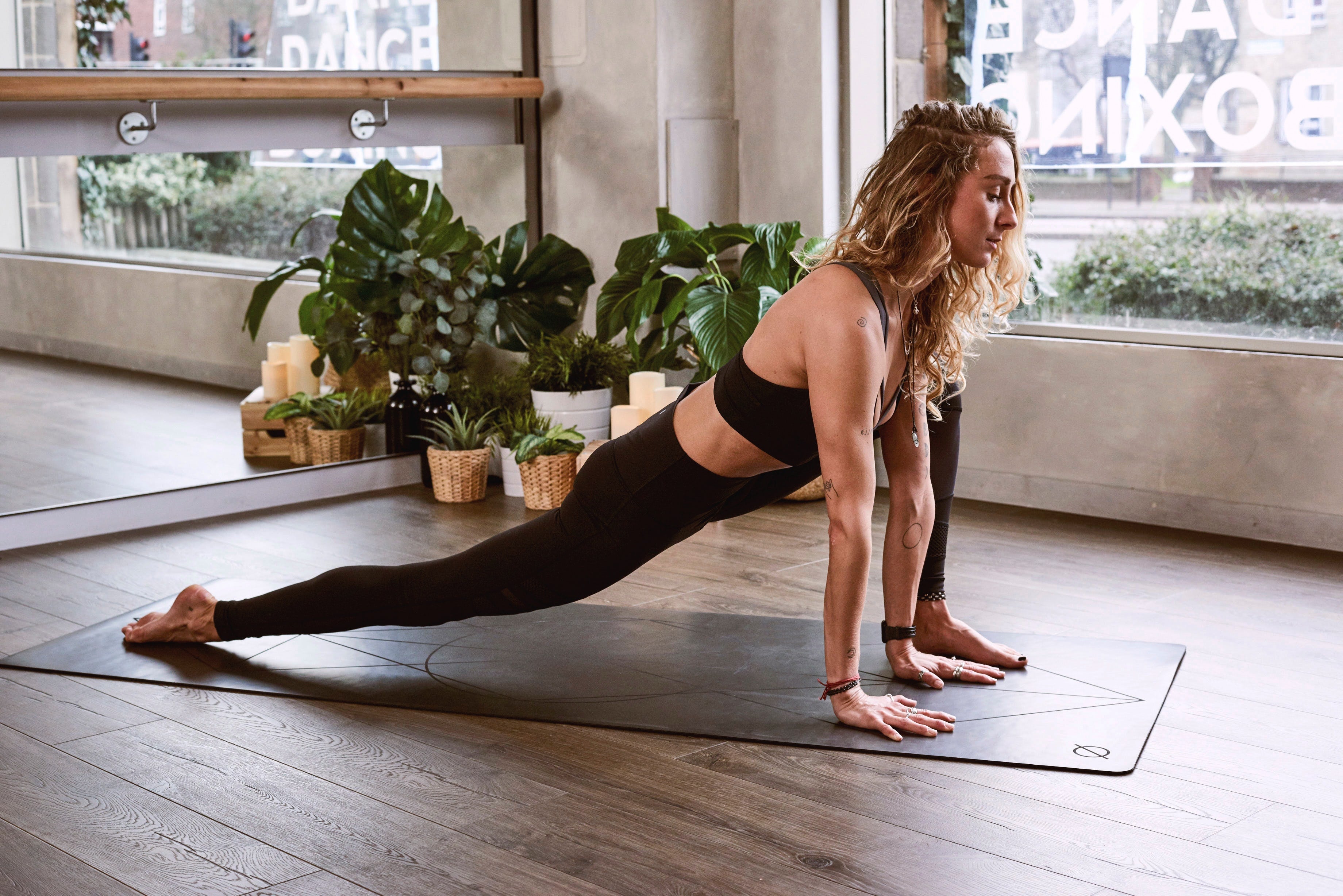 Survival Guide to Feeling Good and Staying Fashionable
These are unsettling and challenging times. Social distancing has proven to be harder than we would have thought and we believe that it is important to maintain a routine during these trying times so we can feel good about ourselves. We came up with a detailed survival guide to keep you going! Below, we've listed some of our favourite brands, workouts, playlists and everything else you might need for some daily inspiration.
Tip 1: Wake up and get happy!
We know, it's tough to get up early right now, especially if you aren't working or don't have any obligations first thing. We recommend setting your alarm for the same time each day during the week and taking 15 minutes to meditate or taking some time to yourself before you dive into any media. 
A great way to spend these 15 minutes: 
Journaling - A great resource is The Five Minute Journal

Meditation

Stretching/Yoga

Gratitude - List five things you are grateful for and why first thing each morning
Tip 2: Skin care like never before 
Right now, your mornings aren't likely rushed, so now is the perfect time to play with your skin care routines. The amazing Ladies at Lineage House are offering delivery and have an incredible selection of sustainable beauty products that will keep you fresh and glowing! Some of our favourite brands like French Girl and Living Proof are available through their website or Instagram. 

We've had a blast trying new face masks right now! Mostly, we're looking for what really works with our skin and since we're hiding at home, we don't have to worry about reacting to them poorly or having to go to work with a red face or breakout. The Super Mud Glam Glow is one of the best masks we have found, it does wonders for your complexion and although it is on the steeper end budget wise, it will last forever and it really does work. If you are looking for a natural or organic mask try the Green Tea Water Bomb Mask, a super replenishing mask for the morning after a late night Netflix binge.
Some of the other products we love right now include:
1. The Ordinary - Natural Moisturizing Factors + HA   
2. Fresh - Soy Face Cleanser
3. La Roche Posay - Effaclar Purifying Foaming Gel for Oily Sensitive Skin
4. Drunk Elephant - F-Balm Electrolyte Waterfacial
5. Dr. Hauschka - Clarifying Day Oil 
6. Glossier - Milky Jelly Cleanser
Tip 3: Girl, get dressed
Bill Cunningham said "Fashion is the armor to survive the reality of everyday life." That shouldn't change just because we're stuck at home every day. 
Let's be honest, we love sweats, especially when we're at home and no one but the cat can see us. But now, more than ever, is the time to rock your athleisure and feel good about it! Cotton Citizen has neon and tie dye sweatsuits that we are drooling over, Vince always dominates with crisp and beautiful basics and Opening Ceremony makes a cashmere set like no other. We are constantly posting clothing throughout our Instagram that may not necessarily be on the website so make sure you are following our stories each week for what's new. 
How do you feel about wearing shoes indoors right now? We feel great about it! Sneakers are of course the best option next to slippers. And they can be a big fashion statement that you'll be able to wear outdoors when the summer hits. From Fendi to Gucci to Common Projects, these shoes are not only appropriate for lounge wear in private, but also for hitting the streets. Most of the top trending sneaker brands you should easily be able to find through consignment. Some of our favourite shoes in the Studio right now include:
Fendi 2019 Riga Banda Zucca Sneakers
Valentino Bounce Sneakers
Yves Saint Laurent Skate 20 Low-Top Sneakers
Gucci Jordaan Velvet Horsebit Loafers
Aquazurra Powder Puff Pointed Slides
If you are looking for new affordable, trendy or comfy shoes we suggest looking at Canadian Footwear. They're local and offering complimentary drop off right now! You can message them on Instagram or purchase straight from their website.
We have tons of pieces not featured on the website. If you're looking for a particular style or size, email us and we can let you know what we've got!
Wearing sneaks everyday, no matter how cute they are, may get old. One of our fashionable girlfriends in Toronto, challenged us to "put on some heels and take a photo no matter what you are wearing." The photos started pouring in — gals in track pants, silk PJs and robes were rocking their favorite pair of heels. It not only provided some much needed LOLs, but it got us thinking about other fashion challenges we could do together. Got any ideas for us?
Whether you are getting some fresh air on a walk or making your necessary grocery trip (all while social distancing of course), try and put on some denim and a leather jacket. Trust us, you will feel FIRE. Our favourite denim brands include Mother, AGOLDE, R13 and Reformation, all of whom are offering free shipping right now. 
Tip 4: Turn it up
Music or podcasts will definitely keep vibes positive. What better time to try a new podcast and learn something while you have the time.
Our favourite podcasts include:
Crime Junkies
Almost 30
Goop Podcast
Girl Boss Radio
Expanded with Lacy Phillips
If music is more your jam, did you know we have a So Over It playlist? On Spotify, Our Monday Mood playlist is constantly being updated and it has something for every type of mood.  Head to
Jazz Hip Hop
for another feel good set of tunes that will keep things high vibe all day long. Right now we can't stop listening to
Vance Joy
,
Bon Iver
,
Rhye
,
Kacey Musgraves
and
Charlotte Day Wilson
.
And if you're into performing your own runway show, listen to some playlists featuring 
Michael Gaubert
who is the
sound designer for 
Chanel
, 
Louis Vuitton
, 
Loewe
, and 
Raf Simons
. 
Tip 5: Get Organized
There has never been a better time to re-organize your closet. PopSugar wrote a great article to help you with this process step by step. 
From rearranging your tupperware cupboard to finally cleaning out that junk drawer, there is an endless list of "chores" you can crack down on. The House Mix Blog has a breakdown on how you can organize every single room on a budget. 
It is also a great time to consign. Once you go through your closet make sure to distinguish your donations, giveaways and consignment pieces. You can easily book a contactless drop-off with us!
Tip 5: Stay fed and hydrated
Let's be real, it's 5 o'clock somewhere! Feeling forced to start learning some new recipes because you're on your second week of Kraft dinner every night? These cookbooks are a creative way to get cooking while in self-isolation:
1. Ruffage: A Practical Guide to Vegetables by Abra Berens
2. South: Essential Recipes and New Explorations by Sean Brock
3. Nothing Fancy: Unfussy Food for Having People Over by Alison Roman
4. Tokyo Cult Recipes by Maori Murota
Every hour is happy hour during quarantine! Being at home has got us taking our time ordering wine and choosing ones we haven't tried before. Why not give a new red a spin or take time creating a fancy cocktail? We love all the natural wines out on the market right now. Give your local wine store a call and see what they have in-stock. Now is a great time to support local — Delucas Fine Wine , Banville and Jones and Ellement Wine are all amazing options with impeccable customer service. 
Here at So Over It, we are red wine lovers, but we consulted a close friend in the wine industry who recommended the Protea Chenin Blanc and it was amazing! Step out of your comfort zone and try something new next time you make your wine order. 
Top Wine Picks
Protea Chenin Blanc 2019 
Chevalier De Dyons Pinot Noir 
Peter Zemmer 'Rollhutt' Pinot Noir 2017 
Felsina Berardenga Chianti Classico Docg 2016
Niner Wine Estates Cabernet Sauvingon 2016
Domaine Matrot Auxey-Duresses Cote De Beaune 
Graci Etna Rosato 2018
2019 Skin Fermeneted Vidal (Orange) Southbrook Vinyard BC (If you haven't tried an orange wine before you are in luck, it's a mind twist!)
Day Wines Queen D
Delinquente "Screaming Betty" Vermentin
Naturkinder Drei Freunde
HOT TIP: Have you tried the Vivino app? It's free and will help you keep track of your favorite wines, as well give you options to explore.
If cocktails are more your thing, here are a couple killer cocktails to try while watching the latest Netflix doc.
Pomelo Mojito: Grapefruit-like pomelos are sweet, but not bitter, so they pair fabulously with mint and lime in this crisp mojito (via Simmer + Sauce).
Chasing Summer: In a cocktail shaker, combine the Chai Sun Tea, passion fruit puree, condensed milk and vinegar. Fill the shaker with ice cubes and shake well. Strain into a chilled, crushed-ice filled collins glass (via Food & Wine 2016 Cocktails book).
So Over It Special: This is our very own patio favourite we have spent many summers making together. We start with Casamigos Tequila over ice, add two ounces of grapefruit juice and soda to your liking. Garnish with a lime or lemon! This is an easy cocktail for summer that we cannot get enough of. 
Tip 6: 1-2-3-4- Get that booty to the floor!
Unless you have a home gym, working out can be hard when you're stuck at home in a small space. Good news is, lots of trainers and fitness studios are offering online services! Here are our top five favorite at home workout gurus to get you motivated. 
Tip 7:  What's Boredom? 
Time to pick up a new hobby girlfriend! Try beading, tie dying or reading that book you've been meaning to read for the last six months. 
A great way to cure boredom and support local is to look for something to entertain yourself. We recommend repurposing some clothing and getting crafty. We are going to attempt to tie dye our White So Over It Hoodies as a project we can do online with our girlfriends. Bonus: tie dye is a HUGE trend right now!
If something a little less messy is more your style, our pals at
Verde Plant Shop
(located in both Winnipeg and Vancouver) are selling the cutest puzzles, plus they are offering delivery and contactless pickup. It's a no-brainer folks!
It's a trying time for us small business owners right now, so we ask that you please try and support your favourite local businesses in any way you can. Try to source local before you order from Amazon. It will feel so much better, you will be making a positive impact on your community and THAT is cool. 
Tip 8:  DON'T BE HARD ON YOURSELF
The biggest tip of all. Some days you won't want to work out, some days you won't want to get dressed and that is OK. Take this time to slow down, reflect and enjoy things you wouldn't usually have time to. Social distancing is hard, but we're in it with you and we hope these tips have given you a little bit of inspo to move forward with.
On March 8, we celebrate International Women's Day, a global day high-fiving the social, economic, cultural and political achievements of women around the globe. This day also marks a call to actio...
Read more
In our January blog post, we gave you our two cents on fashion trends for 2020. Now we have condensed that list to our top spring trends; ones that have swiftly gone from runway to ready-to-wear. W...
Read more